EXAMINATION THE HORIZONTAL MATHEMATIZATION PROCESSES OF SECONDARY SCHOOL STUDENTS ACCORDING TO THE REALISTIC MATHEMATİC EDUCATION: THE EXAMPLE OF PROBABILITY SUBJECT
Abstract
The purpose of this study is to examine the horizontal mathematization processes of secondary school 8th grade students with an activity on the topic of probability in the theoretical umbrella of Realistic Mathematics Education. This study is qualitative in nature. In order to attract the attention of students, a story was arranged by the researchers. According to the results, the students were generally successful in the horizontal mathematization process. In addition, students appear to be more successful at "solving a problem situated in daily life", which requires them to make mathematical interpretations; this supports the viewpoint that the success of students increase when relations are established with everyday life situations, as claimed by the reality principle in realistic mathematics teaching.
Key words: Realistic Mathematics, horizontal mathematization,mathematic education.
REFERENCES
Akkaya, R. (2010). Olasılık ve istatistik öğrenme alanındaki kavramların gerçekçi matematik eğitimi ve yapılandırmacılık kuramına göre bilgi oluşturma sürecinin incelenmesi, Uludağ Üniversitesi.
De Lange, J. (1987) Mathematics, Insight and Meaning, OW&OC, Utrecht University, Utrecht, The Netherlands
Freudenthal, H. (1968). Why To Teach Mathematics So As To Be Useful? Educational Studies in Mathematics 1, 3–8.
Freudenthal, H. (1971). Geometry Between The Devil And The Deep Sea. Educational Studies in Mathematics. 3, 413–435.
Kaylak,S. (2014), Gerçekçi Matematik Eğitimine Dayalı Ders Etkinliklerinin Öğrenci Başarısına Etkisi. Necmettin Erbakan Üniversitesi.
Treffers, A. (1978). Wiskobas Doelgericht. (Wiskobas Goal directed).Utrecht: IOWO.
Treffers, A. (1987). Three Dimensions. A Model of Goal and Theory Description in Mathematics Instruction. The Wiskobas Project, Reidel Publishing Company, Dordrecht, The Netherlands.
Van Den Heuvel & Panhuizen, M. (2003). The didactical use of models in realistic mathematics education: An example from a longitudinal trajectory on percentage. Educational Studies in Mathematics,54(1), 9-35.
Wijdeveld, E. (1980). Zich Realiseren, In IOWO, De Achterkant Van De Möbiusband, IOWO, Utrecht, The Netherlands. 23–26.
Yıldırım, A. & Şimşek, H. (2006). Sosyal Bilimlerde Nitel Araştırma Yöntemleri. Ankara: Seçkin Yayıncılık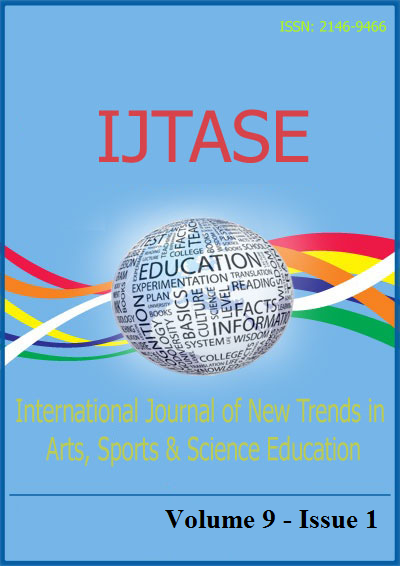 Downloads
License
Copyright (c) 2020 International Journal of New Trends in Arts, Sports & Science Education (IJTASE)
This work is licensed under a Creative Commons Attribution 4.0 International License.