INVESTIGATING 8TH GRADE STUDENTS' THINKING MANNERS ABOUT FRACTAL PATTERNS
Abstract
Completing the missing steps of fractal patterns whose some steps were given and explaining the reasons of the answers were expected from the students within the interview questions. By deeply analyzing the answers of the students, it is aimed to investigate thinking manners about patterns are in fractal shapes. Due to the data that was obtained from the interviews, strong relationship was deduced between the students' knowledge about properties of self similarity and iteration of fractal shapes and their success about realizing of relationship between the steps of fractal patterns.
Keywords: Fractal Pattern, 8th grade students, Thinking manner, fractal geometry.
References
Baki,A. (2001). Bilişim Teknolojisi Işığı Altında Matematik Eğitiminin Değerlendirilmesi. Milli Eğitim Dergisi. Sayı: 149, Sayfa: 26-31
Blaxter, L., Hughes, C.& Tight, M. (2006). How to Research. (Third edition). England: Open University Press.
Gündüz,  D. ( 1998). Fraktallar Dünyasında Küçük Bir Gezinti. Bilim ve Teknik Dergisi. 98(4), 40-43.
Karakuş, F. (2010). Fraktal Kart Etkinliği ile Fraktal Geometriye Giriş. Elementary Education Online. 9(1), 1-6.
Vacc, N.N. (1999). Exploring Fractal Geometry with Children. School Science and Mathematics. 99(2), 77-83.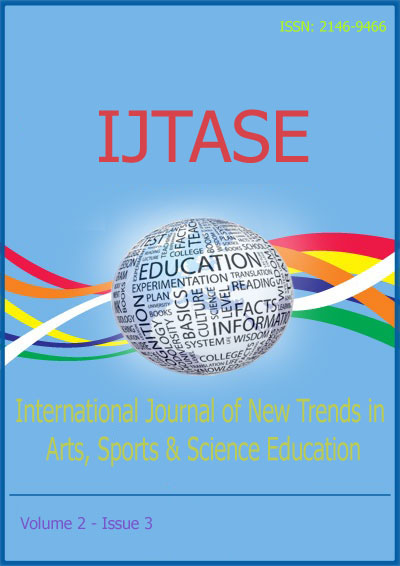 Downloads
License
Copyright (c) 2013 International Journal of New Trends in Arts, Sports & Science Education (IJTASE)
This work is licensed under a Creative Commons Attribution 4.0 International License.