KKTC İLKOKULLARINDA OKUL-VELİ MEMNUNİYETİ (YEDİDALGA ÖRNEĞİ)
Abstract
SCHOOL-PARENTS SATISFACTION IN TRNC PRIMARY SCHOOLS (THE SAMPLE OF YEDIDALGA)
Questionnaires were utilized to cumulate the opinions of the parents under the scope of Research Literature scanning. Total of 48 parents were interviewed. The results are distributed under 15 titles into group via processing data through frequency and percentage. The parents have assessed the school, the teachers, and the school administrations and staff as such: They have commonly emphasized their appreciation in regards to accessibility and communication, showing importance to relevant requests and recommendations, security, participation to decisions, students affairs, activities operating relevant to the curriculum, Learning/Teaching methods and techniques, the class atmosphere, course utilities, course breaks, the physical environment of the school, the canteen, the social-cultural and sportive activities, assessment/award, certificates of appreciation and honor, gaining positive behavioral habits and education.
Key Words: School Appreciation, Self-Assessment.
Özet
Araştırma Literatür taraması ile veli görüşlerini almak üzere anket kullanılmıştır. Araştırmada 48 veli görüşü alınmıştır. Anketten elde edilen veriler frekans ve yüzde kullanılarak  15 başlık altında gruplandırılarak ilgili tablolarda sunulmuştur. Veliler; okulu, öğretmenleri, okul idaresini ve çalışanları şöyle değerlendirilmiştir: Ulaşılabilirlik ve İletişim, İlgili  İstek ve Önerilerine Önem verme, Güvenlik, Kararlara Katılım, Öğrenci İşleri, Ders Programıyla İlgili Yürütülen Faaliyetler, Öğrenme/Öğretme Yöntem ve Teknikleri, Sınıf Atmosferi, Ders Araç ve Gereçleri, Ders Arası-Teneffüsler, Okulun Fiziki Ortamı, Okulun Kantini, Sosyal-Kültürel ve Sportif Faaliyetler, Değerlendirme /Ödül, Teşekkür ve Takdir Belgeleri, Olumlu Davranış   Kazanma ve Eğitim konularında her zaman memnun oldukları yönünde görüş bildirmişlerdir.
Anahtar Kelimeler: Okul Memnuniyeti, Öz değerlendirme
Kaynaklar
Karasar,N(1995).Araştırmalarda Rapor Hazırlama (sekizinci basım). Ankara:      Bahçeliever P.K 33.
Karasar,N(2005).Bilimsel Araştırma Yöntemi ( 14. Baskı). Ankara: Nobel Yayın Dağıtım.
TC Milli Eğitim Bakanlığı (2012). Cumhuriyet İlköğretim Okulu Özdeğerlendirme Raporu TKY.Mersin İl Milli Eğitim Müdürlüğü.
Veli Memnuniyeti Anketi(2012).  rehberlik.beykent.kl2.tr (Erişim Tarihi,4Nisan2016).
Veli Memnuniyeti.  doğanhisar.meb.gov.tr/dokuman/tky (Erişim Tarihi,4Nisan2016).
Veli Memnuniyeti Anketi(2008-2009). Eskişehir Eti Sosyal Bilimler Lisesi(Erişim Tarihi, 4Nisan2016).
Veli Memnuniyeti Anketi(2012). Eğitimhane.com (Erişim Tarihi,4 Nisan 2016).
Erhan Gedikbaşı Çok Programlı Lisesi Veli Memnuniyeti. https://spread sheets.google.com/viewform?hl=tr&formkey.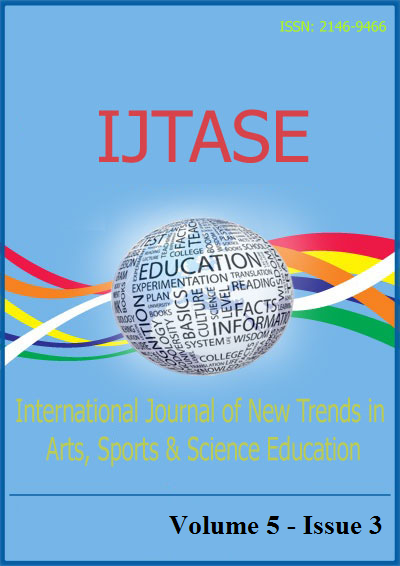 Downloads
License
Copyright (c) 2016 International Journal of New Trends in Arts, Sports & Science Education (IJTASE)
This work is licensed under a Creative Commons Attribution 4.0 International License.